• Fashion • Graffiti • Women • Women's Clothing
Hey, fashionistas! Welcome to another #Fashionfriday blog post where I share my latest creations and inspirations. Today, I want to talk about my "Stay Fierce Queen" graffiti artwork. The artwork is to help encourage and motivate African American women to embrace their beauty, strength and power. It features the colors pink, blue and purple, which represent femininity, tranquility and creativity. I was inspired by the graffiti culture and the street art movement, which are forms of expression that challenge the status quo and celebrate diversity. I wanted to create something that would catch people's attention and make them feel empowered....
---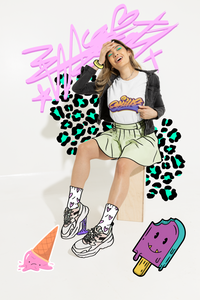 Are women fashion style statement just about wearing women  fashion clothing? Every one of us are different and so it's important  that we have a fashion statement that best suits our personality.  Fashion is nothing but highlighting the best and hiding all the flaws.  Points all you women wanted to know about clothing:  Always wear a free-flowing fabric in one tone to achieve a long and slim  look.  Wear clothes on the basis of your body structure.   Velvet and leather is apt for winters and silk, organza and cotton for  summers.  For a morning party opt for lighter shades like...